SMARTY offers one of the cheapest unlimited data SIM plans in the United Kingdom. I was able to get their data plan for £18 per month (Currently being offered at a discount) which includes unlimited calls and texts in the United Kingdom as well as unlimited data (on 3G/4G/5G). It took about 2 days for the SIM to arrive by mail.
In case you haven't heard about SMARTY, it is actually a virtual provider meaning the company doesn't really have any telecom infrastructure of its own but instead uses Three UK's infrastructure.
I am currently based out in Manchester and when I initially tested out using the hotspot, I was getting less than 1 mbps! Turns out that the 5G service is non-existent around my area and while it was able to connect to 4G network, the performance was quite dismal. I did end up contacting the service provider and was informed that some repairs are being performed but it has been a couple of days and I haven't noticed any difference so far.
However, I noticed that the internet speed was much better when I chose to use 3G network on my phone. Running speed tests during day time, I am getting about 18-20 mbps download speeds while upload is around 2-3 mbps. Latency also appears to be quite good for gaming.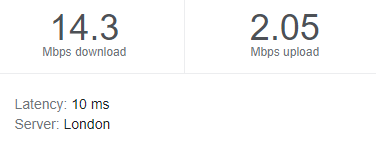 I also ended up running an internet speed test during the night and the speed was slightly better. So far, I have downloaded more than 25+ gigs in the last few days and haven't noticed speeds being reduced further.

Unfortunately, I wasn't able to test out SMARTY's 5G speeds as I am not able to get any signal indoors. Which means if you are looking to setup a 5G hotspot at your home, maybe SMARTY wouldn't work for you as well. I also have an eSIM from O2 and while SMARTY turns out to be slightly cheaper, O2's data performance and coverage in my area is a lot better.