I was looking for something interesting for my cat to try and found out about Dried Sardines that Winners/HomeSense was selling for CAD $7.99. Before this I have always given my cat, processed cat treats and some of them my cat goes absolutely crazy for.
As the name of the product suggests, it only contains Dried Sardines that have been dried naturally. There is nothing else in it that has been added to enhance it's taste or preservation. The Pet Treats are suitable for both cats and dogs. Not only that, but they are human grade, so you can also try them out as well!
As per the nutrition notes, they are high in Omega 3 fatty acids and have calcium as well. While, the notes say low calories, It is actually 4.8 calories per 1.5g sardine! Compared to other treats, this might be a little higher but it really depends on how many are you going to end up feeding your cat.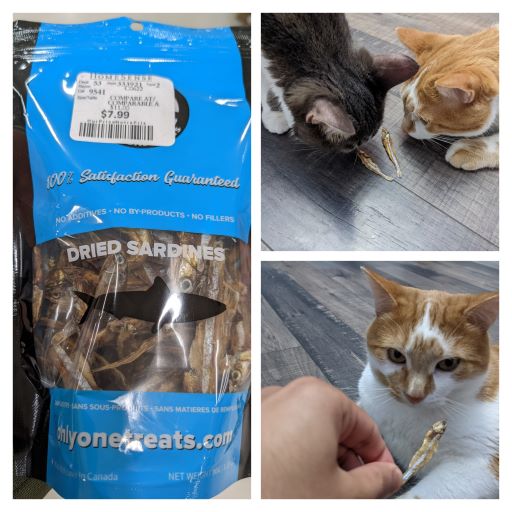 I had another cat that I was sitting for the week so I thought why not let both cats try the treats out and tell me how it goes. The cats were quite curious when I opened the bag, and once I took the treat in front of them, they actually licked it but then never ended up eating them.
I then put the treats in front of them to see if they would try playing with it or do something but they just sniffed it and that was it. It seems that both cats do not seem to like these Dried Sardines much. With other treats, that I have tried, they can be a lot more playful and will eat them the moment I put it in front of them.
However, I have noticed that when I put the Dried Sardines Treats in my Cat's food bowl with the wet food, he seems to eat it after a while. I think that while I can't use these Dried Sardines as treats, I might end up using them as food toppers for my cat to have something a little different in his diet.