The last time I got Sushi from Costco (Gatineau, QC), I wasn't really impressed with it. There just seemed something wrong with it but I couldn't point out exactly what. So I had to give it another try!
This time I ended up getting the Salmon Deluxe Combo which consisted of Salmon Avocado Roll, Cucumber Hosomaki, Spicy Salmon Rolls and Alaska Roll. The price came around CDN$14.00 (not including taxes)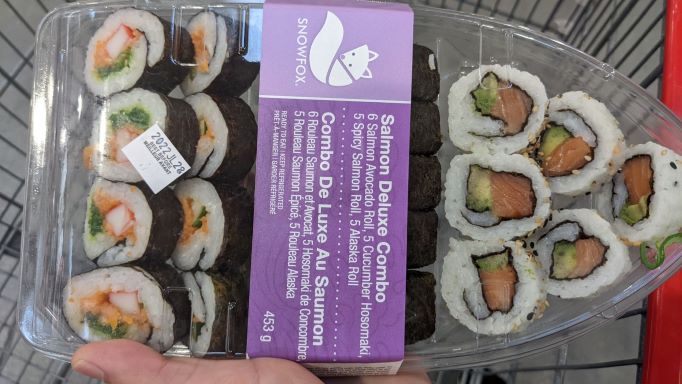 Sushi packages sold by Costco come with their own Wasabi and Soy Sauce. I noticed that the Wasabi dissolved quickly in the Soy Sauce! This makes me think that the quality of their Wasabi/Soy Sauce is decent.
But what about their Sushi? Well out of all the rolls that I tried, I found them quite underwhelming. The flavor, the rice feels quite different and not in a good way. Also maybe the fact that you are picking pre-made sushi from a fridge makes a difference.
From all the grocery stores that I have visited so far, I think Costco Sushi is the one that has failed to impress me. I have found the Walmart Sushi to be slightly better than Costco Sushi while Sushi from Metro Plus has always exceeded my expectations.
I don't think I will order Sushi again from the Costco store near me. Costco does stock a lot of really good things and is my favorite store to go to but sushi is definitely not something you would want to get from Costco!
Rating – 5.5/10