If you have applied for Canadian Citizenship then at some point you are going to receive an email from from the Immigration, Refugees and Citizenship Canada with a "Notice To Appear" for your Canadian Citizenship Test.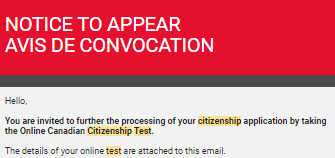 The Canadian Citizenship Test is to show that you know some basic stuff about Canada including rights/responsibilities of Canadian Citizens as well as Canada's history, politics, economy, laws, demographics, and symbols.
The test is 30 minutes ; can be given either in French or English ; and requires a score of atleast 15/20. You can give the test online/in-person but in certain cases, you might be required to give the test orally.
Here is how I prepared for the test and you can too –
Read the Official Study Guide – All the questions that you are going to get in your test are going to be from the official study guide. You might want to go through the study guide more than once as there are a lot of dates/names of people that you will need to remember.

Official study guide is accessible here – https://www.canada.ca/en/immigration-refugees-citizenship/corporate/publications-manuals/discover-canada.html
Memorize your representatives – Few questions in the test are going to be regarding political representatives from your city/province/country so you should know important figures like the Prime Minister, Premier, Lieutenant Governor, Mayor. Also you should know about the political parties of your Province/Country and the leaders.
The official study guide has a page that covers what representatives you are expected to know and most likely they will test your knowledge on one of them.
Practice the Citizenship Test – It is recommended that you go through the question bank which will help you prepare better for the test. A lot of the questions that you are going to get in your citizenship test are going to be in the question bank as well. This will help you increase your chances of passing the citizenship test.
In my case, I went through the question bank a couple of times as well.
You will have approximately 3 weeks to give the test. If you don't pass the test, then you will get a notice to give a second test after some period.
Once the test is completed, your status will get updated to Completed in the Citizenship Tracker. Usually people get their invite for the Citizenship ceremony within a few weeks of passing the Citizenship test.