You would be required by the Canadian Immigration to submit an FBI Police Clearance certificate if the following conditions apply –
Applying for Canadian Permanent Residence or Canadian Citizenship. AND
Currently residing or have previously resided in the United States.
Steps that you need to follow to apply for your FBI Police Clearance Certificate
Step 1 – Fill out the FBI Identity History Summary Request Form
You can either fill out the summary request form in paper format or online.
RECOMMENDED – For faster processing it is suggested that you submit your request online using the Electronic Departmental Order – https://www.edo.cjis.gov/.
To start your online process –
Submit your email address.
Receive Identity History Summary Request from FBI in your email.
Open the Link in the email and fill out the application.
The online form requires you to fill your Personal Information, Mailing Address and Preferences.
For Preferences, it is recommended to provide 'Yes' to all, that way you will receive a copy of the response in email as well as a hard copy.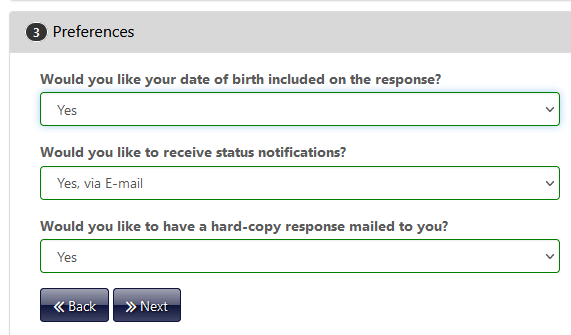 Finalize your online application by making the payment.
Information for paper based applicants only
If you are NOT able to do the online order then you only try doing the paper format. Here is what the paper format of the identity history summary request form looks like, you will need to fill out your details, print it and then sign it. You will need to attach a check or money order or provide a credit card form as well in this case.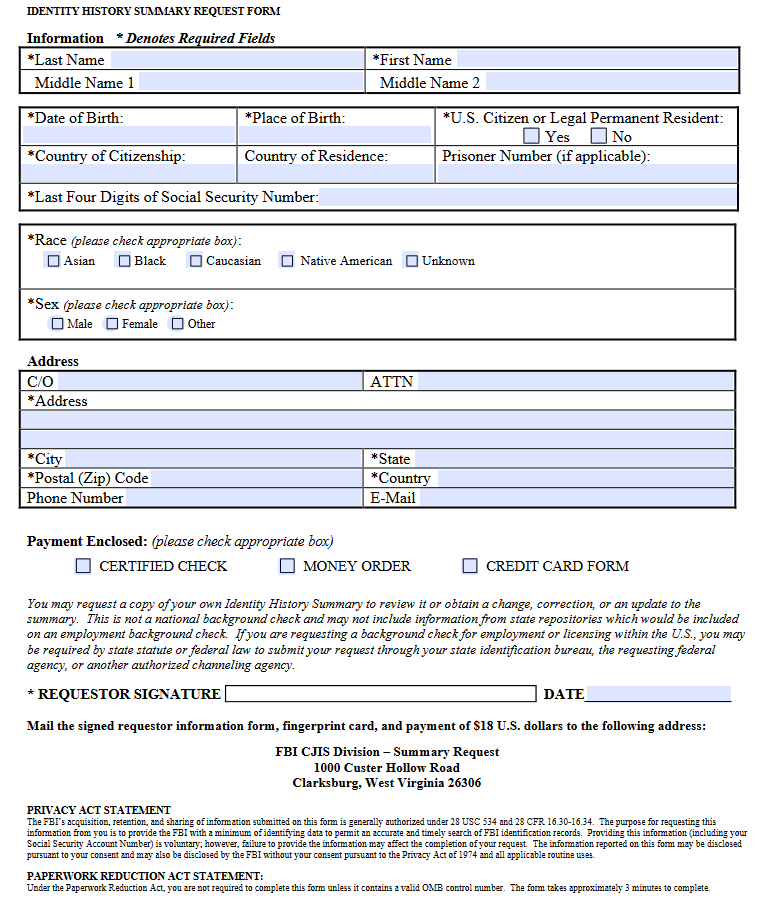 Step 2 – Fill out FBI Standard Fingerprint Card
You will need print out the FBI Fingerprint Card, provide your personal details and then need to do your fingerprints.
Here is what the current fingerprint form looks like –
Where to get your fingerprints done?
Doing your fingerprints at home is not recommended as the quality of the fingerprints might not be good enough. It is recommended that you contact your nearest police station and ask them if they can do it for you. Some police stations might do it for free but some of them might charge you a fee so make sure to carry cash with you.
Step 3 – Mail your printed identity history request form AND fingerprint form
You will need to mail both your identify history request form as well as the fingerprint form to the FBI CJIS Division. Their complete address is –
FBI CJIS Division
ATTN: ELECTRONIC SUMMARY REQUEST
1000 Custer Hollow Road
Clarksburg, West Virginia 26306
Expedite your mail
If you are sending the mail from outside the United States, it can take weeks, even months for the FBI to receive it. If you need the FBI background check soon, it is recommended to send it as priority shipping or whatever fastest method is available.