If you haven't been to Yunshang before, it's a small chain of Chinese restaurants in Canada that has recently become one of my favorites! So much so that I decided to go out there often and try out some of the other stuff that they have.
Things you should know before you order –
If you become a lifetime VIP member, you will get special discounts on all your orders (Cost me 20 bucks and is worth it if you plan to go there often)
This place only accepts debit cards and cash! No credit cards!
You can get unlimited noodles for your soup at this place.
Portion sizes for their mains are generous.
Their food can be quite spicy so if you are not sure, ask the server if it's possible to reduce the spice level for your order.
Add-ons like meatballs, lamb slices, filets, soybeans, tiger shrimp paste, boychoy and more can be added on request.
Meals are served hot, so be a bit careful while eating.
Silverware can be requested if you are not familiar with chopsticks.
Some of the best meals that you can have at Yunshang –
Chinese Sauerkraut Fish Noodle Soup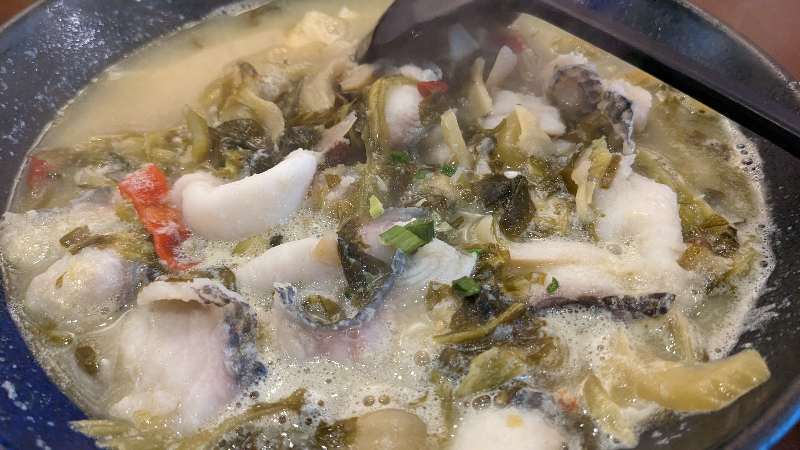 Their Fish Noodle soup consists of Fish and Sauerkraut as the primary ingredients and reminded me of sour pickles, the sour taste being due to the Sauerkraut. While this dish is sour, it's quite enjoyable. I found that they had decent portions of fish as well as sauerkraut.
Duck Blood Noodles with Chili Sauce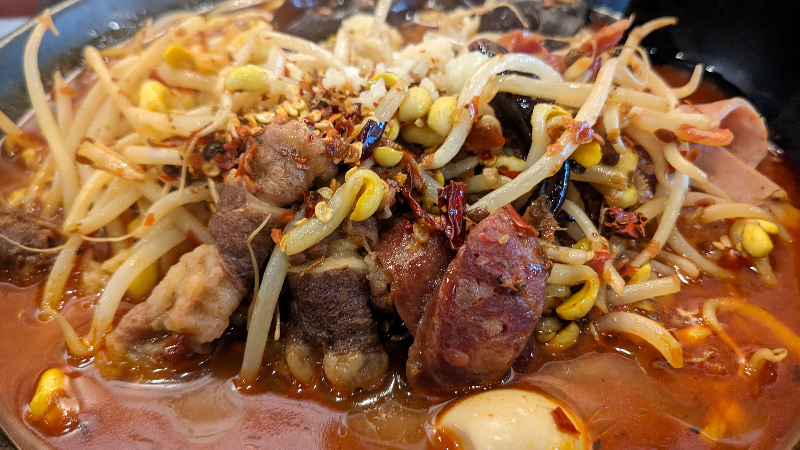 The Duck Blood Noodles have a well balanced mix of flavors as it has a mix of sweet and spice. This was my first time trying out Duck Blood which I was thinking was going to be the broth but it's pieces of Duck Blood, that have a Tofu-like texture. In terms of spice level I would say it's hot enough but very tolerable.
Spicy and Sour Noodles with Beef and Enoki Mushrooms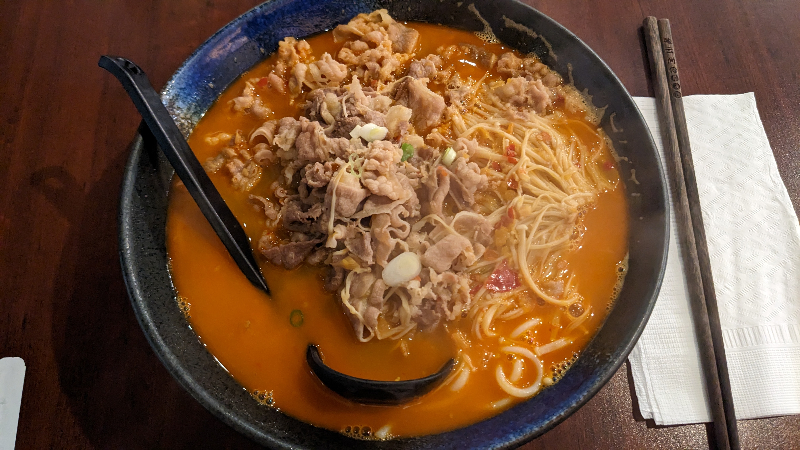 My order of Spicy and Sour Noodles was exactly what the title of the dish is, It was spicy and sour. For me, these noodles were absolutely delicious but I must warn you that they are quite spicy. Make sure to ask for extra napkins if you order this one! There was a good portion of beef and enoki mushrooms in the dish.
Beef Brisket Noodles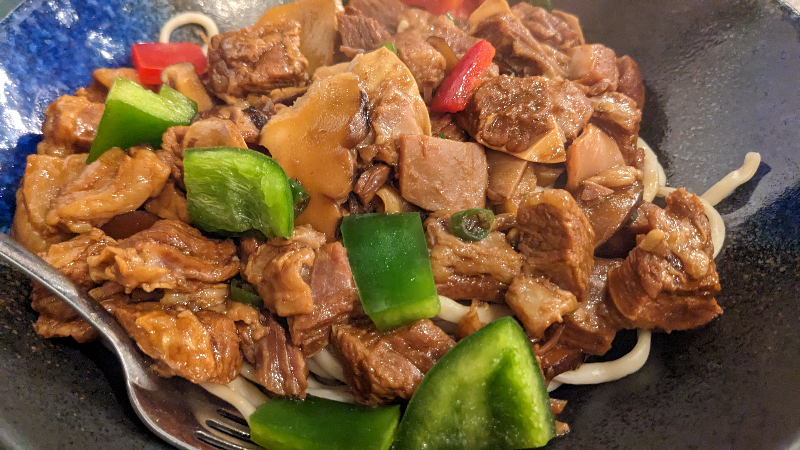 If you don't like spice or don't want to go for noodles, then I think you should go for the Beef Brisket Noodles. For this dish, it is possible to adjust the level of Spice. I went in for Mild-Spicy. If you pay extra, they have an option for a very high level of spice as well. The beef was tender and flavorful.
Spicy Rice Noodles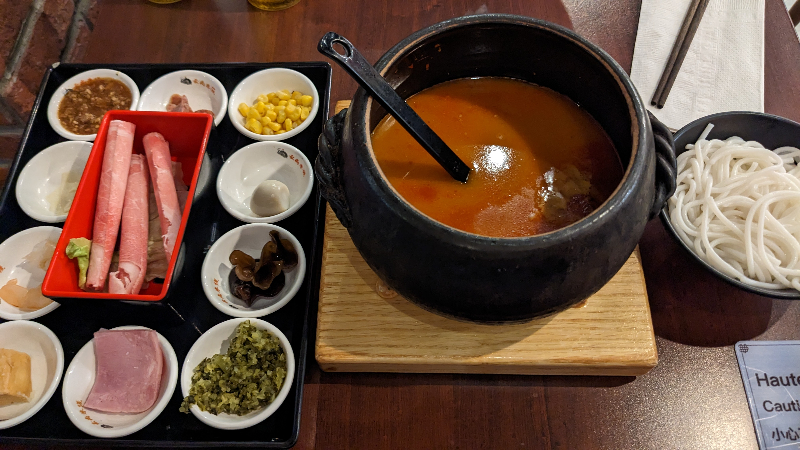 I like how the rice noodle soup comes with a variety of veggies and meat/seafood. You get quail egg, pork, ham, shrimp, sweetcorn, bean curd sheet, black fungus and a couple of more items. You add all of them into the boiling pot full of broth that you receive and then the noodles for them to cook a bit before eating. I enjoy this unique experience at Spicy Rice Noodles where you kind of feel like cooking your own meal but with less effort.
Coconut Rice Noodles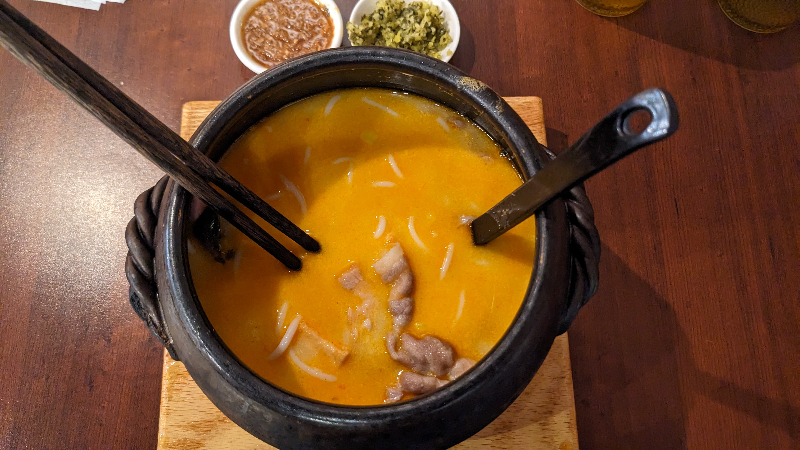 While the Coconut Rice Noodles dish contains coconut milk, you will be surprised at how spicy it still is. It might be less spicy than Spicy Rice Noodles but still has a decent amount of spice in it. I found this one to be quite flavorful due to the coconut milk added into it. If you can't handle spice, go with the Original Rice Noodle Soup.
Fruitwood Smoked Pork Intestine and Duck Blood in Spicy Rice Noodle Soup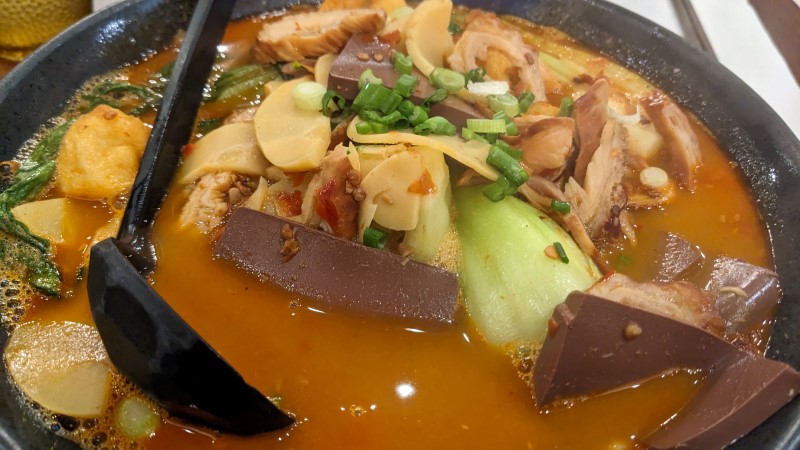 My rice noodle soup with pork intestine and duck blood was quite spicy. The dish has a bit of smoky flavor as well due to the fruitwood smoked pork intestine. There was a lot of meat in my dish and a little bit of fried tofu as well. If you order this dish, you might also end up having to take some home with you, just ask for the extra noodles before you leave!
Sichuan Style Spicy and Crispy Fried Pork Ribs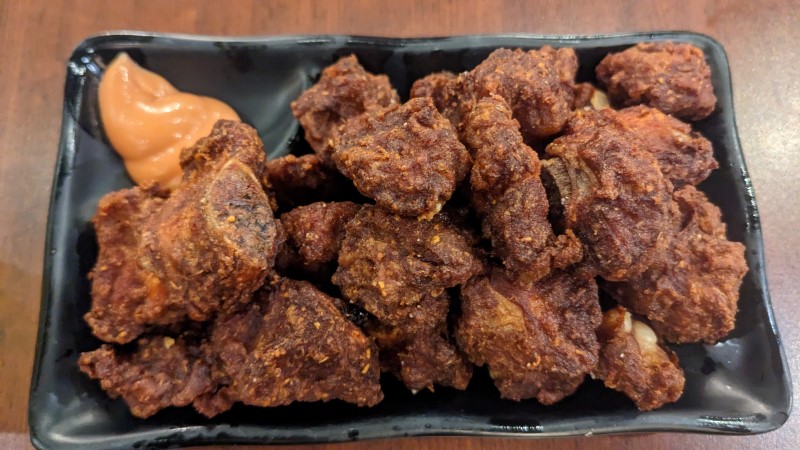 The Fried Pork Ribs were crispy on the outside and tender on the inside. I found them to be slightly spicy and the taste is further enhanced with the sauce that comes with the ribs. Feel free to ask for more sauce as you will probably run out of it quick.
Smoked Pork Intestine
The Smoked Pork Intestines are more like an appetizer so if you are planning to order these, I would recommend that you go for multiple small dishes. Made from pig's intestines, the texture of the meat was slightly chewy and had a savory/salty flavor. Make sure you dip the Pork Intestines in the sauce provided as they taste great with it.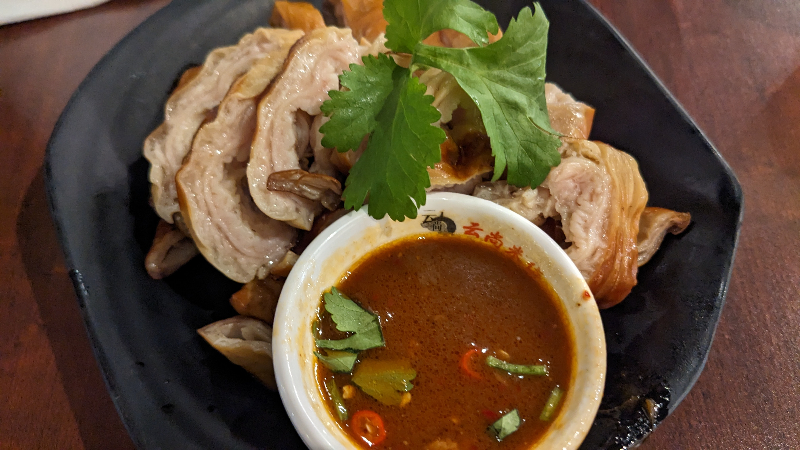 Smoked Pork Feet
The Smoked Pork Feet is another appetizer sized dish that Yunshang has. While I was expecting the Pork Feet to be very chewy/oily, that did not appear to be the case. The meat was soft and came right off the bones. They were so delicious with the sauce provided and I quickly finished them.