I think I have found another restaurant that I will be visiting often in Ottawa! The restaurant is called Yunshang Rice Noodle and it's a Yunan (Chinese) cuisine restaurant. It's a small chain of restaurants founded in Toronto but now has a restaurant in Ottawa as well!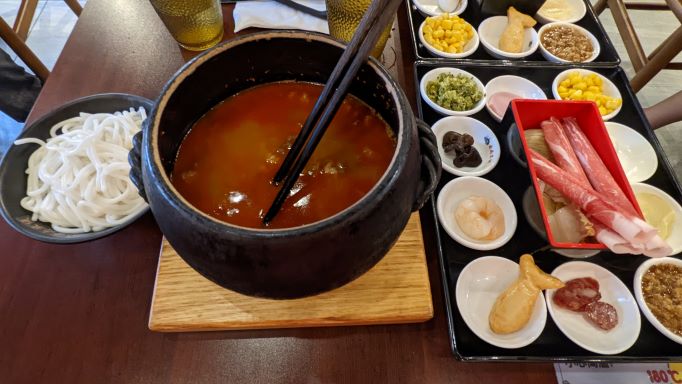 I was specifically attracted by their special for the day where they were offering their Signature Rice Noodles for only $6 when they are usually priced at $14. I also ordered some additional slices of Beef that I wanted to have with my rice noodle.
Service is quite fast here and my order came within 5-10 minutes. My order of Spicy Rice Noodles consisted of a boiling pot of broth, rice noodles as well as a plate consisting of assorted seafood, vegetables, as well as meat sauce.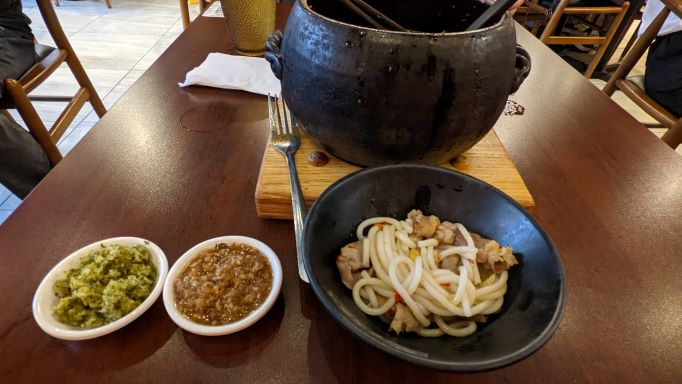 How to eat rice noodles?
People have different approaches to eating rice noodles but here is one way –
Put all the vegetables/seafood/meat except meat sauce in the boiling broth.
Put the rice noodles afterwards
Wait a few minutes till everything in the pot is cooked.
Using fork/chopsticks, take some of the cooked stuff out in another bowl.
Take a little bit of meat sauce and eat it with your meal!
I think the Spicy Rice Noodles turned out to be great and is probably one of the best Chinese noodles I have had in Ottawa! If you are not into spice, they do have an original (non-spicy) as well as tomato flavored broth!
The only thing I didn't like is that there was no air conditioning when I visited and I could see that a lot of people were sweating inside the restaurant. But regardless, this place is really good and would be something I would recommend anyone to go to!
Address: 275 Bank St Unit 101, Ottawa, ON K2P 2L6
Rating – 9/10
Business website: https://yunshang.ca/