This is prolly one of the best looking Sushi restaurants that I have been so far! As soon as you enter, you can see that they have put a decent amount of effort into the fine dining experience. KaTO Fusion Japonaise Restaurant is located right beside the Hilton Hotel Gatineau-Ottawa and Koena Spa!
I started with the starter – Beef Tacos and Kimchi! The Beef Tacos consisted of a crunchy taco shell, short rib beef (shredded), green onions and parsley! It also had some sauce which I think was spicy mayo! I found it to be flavorful!
Next I ordered two different types of Maki Rolls – Dragon Rolls and Spicy Yellow Tails! I must say that the food items served do have a visual appeal compared to other sushi places that you would usually go around the Ottawa-Gatineau area.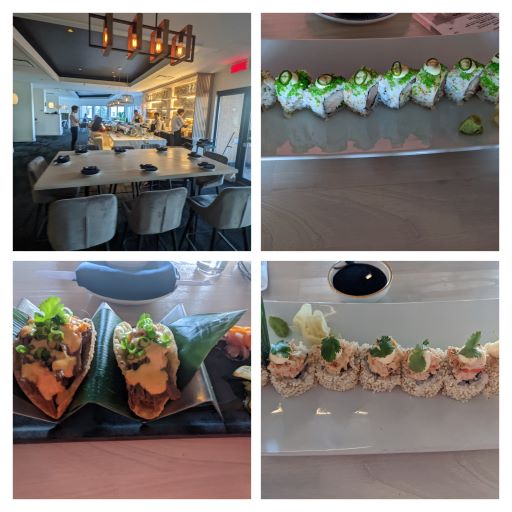 The Dragon Roll consisted of Spicy Salmon, Crab, Avocado and Mayo. Each sushi on the roll had a layer of rice ball. I found it a little hard to eat though as the pieces were a little bigger and wasn't really impressed with the taste much.
The Spicy Yellow Tails roll consisted of Spicy Yellow Tail, Kizami Wasabi, Serrano, Tempura. I wasn't really impressed by it's flavor either.
I think the food tastes alright, does look visually appealing but is not as impressive to many other places in the city. The pricing is a little higher but that is what you would end up paying for dining at a fine dining restaurant. If you are looking to mainly have drinks and some sushi to go with it maybe this would be a nice go to spot!
Address: 1170 Chem. d'Aylmer Suite 100, Gatineau, Quebec J9H 7L3
Rating: 7/10